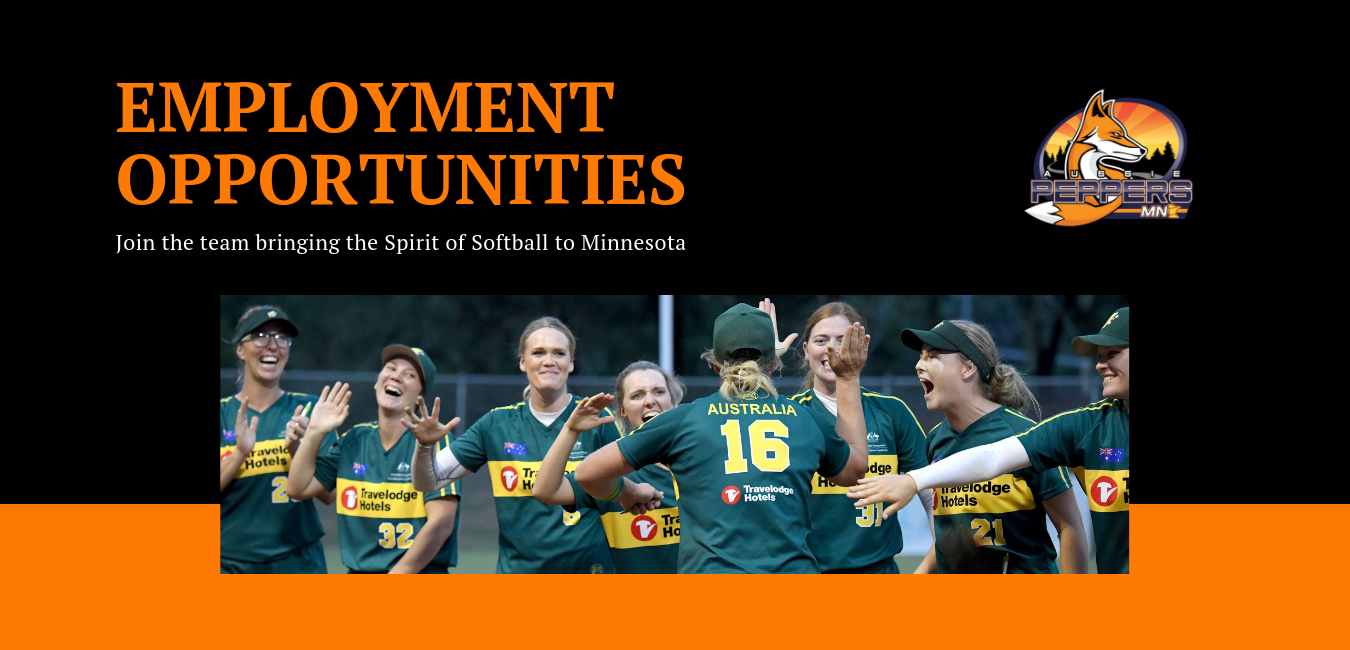 Internship Opportunities
Aussie Peppers Internships
The Aussie Peppers are a women's professional fastpitch softball team in Mankato Minnesota. The Aussie Peppers of Minnesota was founded through a partnership between Softball Australia and the Non-Profit Peppers of Mankato. We are looking for several hardworking interns to work with us this summer during our inaugural season in Mankato. Each internship opportunity is unpaid with the opportunity to be paid based off of formed sponsorships. College credit is offered for all internship positions, but is not a requirement for consideration.
Please contact Alyssa Carver at alyssacarver.peppers@gmail.com or by phone at 309-221-7604 for more information about the following internships:
Ticket Sales & Sponsorships: Interns will be trained in Ticketleap and will help organize general sales initiatives throughout the inaugural season. Interns will be responsible for ticket sales in office but not on game days. On game days these interns will be working closely with our softball partners and other organizations in the community including, but not limited to, other softball and baseball organizations, youth groups, businesses, chamber of commerce, etc., scheduling group events from start to finish including tickets and amenities, assisting in individual and season ticket sales, being responsible for specific sales-driven projects, assisting with ticket promotions, other special projects and administrative duties as assigned, assigned game night responsibilities.
Availability: Summer with the opportunity to extend
Game Operations & Promotions Internship: Interns will be working closely with Alyssa and Briggs Carlson to assist with pregame and postgame operations as well as in-game promotions. Must feel comfortable with public speaking and interacting with fans. These interns will also help with organization and handling of on filed participants and signing of waivers. These interns need to be available to work all home games (please check schedule on home page and inform us of any conflicts in cover letter/ resume submission. We understand things come up and we are willing to work with you!) Ideal interns will have customer service experience, public speaking skills, and will be personable.
Availability: Summer
Merchandise Sales Intern: Opportunity for creative implementation of new apparel ideas and marketing tools, responsible for inventory pregame and postgame, report to Alyssa and Matt for all bulk order needs, responsible for filling online internet orders and mailing, responsible for setup and take-down of merchandise areas on game night, responsible for cash and credit card sales; will be required to report all sales at the end of each home game and homestand as well as online sales throughout. Required to work with Alyssa in office space on an occasional basis and all game days.
Availability: Summer
Clubhouse Intern: Interns will be responsible for maintenance and cleanliness of the different team preparation areas, responsible for ensuring player uniforms are ready and organized for each game, responsible for preparing clubhouse food pregame and postgame, including stocking water coolers, fridge, etc., and responsible for assisting players in a concierge-type roll. This intern will ideally have a background in softball who will be able to connect with the plays and ensure they have everything they may need before and during games on game days.
Availability: Summer
Recap Specialist and Media Relations Internship: Responsible for assisting the Bethany Lutheran College Studios with all aspects of the media relations department, including writing game recaps and press releases, coordinating interviews, capturing content for social media, updating social channels, helping prepare game notes and other materials, pitching ideas and writing feature stories, creating graphics and performing other duties as assigned by the BLC Studios team. The ideal intern will have background in sports recap writing and will be able to preform well under pressure. The NPF needs a post game write up as soon as 30 minutes once the game wraps up and this will be the interns responsibility.
Qualifications:
Strong writing skills; proficiency in AP Style preferred
Excellent time management skills
Familiarity with social media platforms and the ability to creatively deliver content to fans
Previous experience working in sports media, sports writing and/or a team's/program's sports information office a big plus
Availability: Summer
Graphic Design Internship: Responsible for creating and designing promotional materials, player headshots and walk-up music. Will need to be available for all game days and will work directly with all Aussie Peppers full time staff. The ideal intern will have experience with Adobe InDesign and Photoshop.
Availability: Summer
***Indicate in cover letter what area(s) you are most interested in working in, your estimated start and end dates and how many days per week you're available or what a typical weekly schedule would be***
***If you intend to use this internship for college credit please include this in your email to Alyssa with the name of the University you will be getting credit for.***