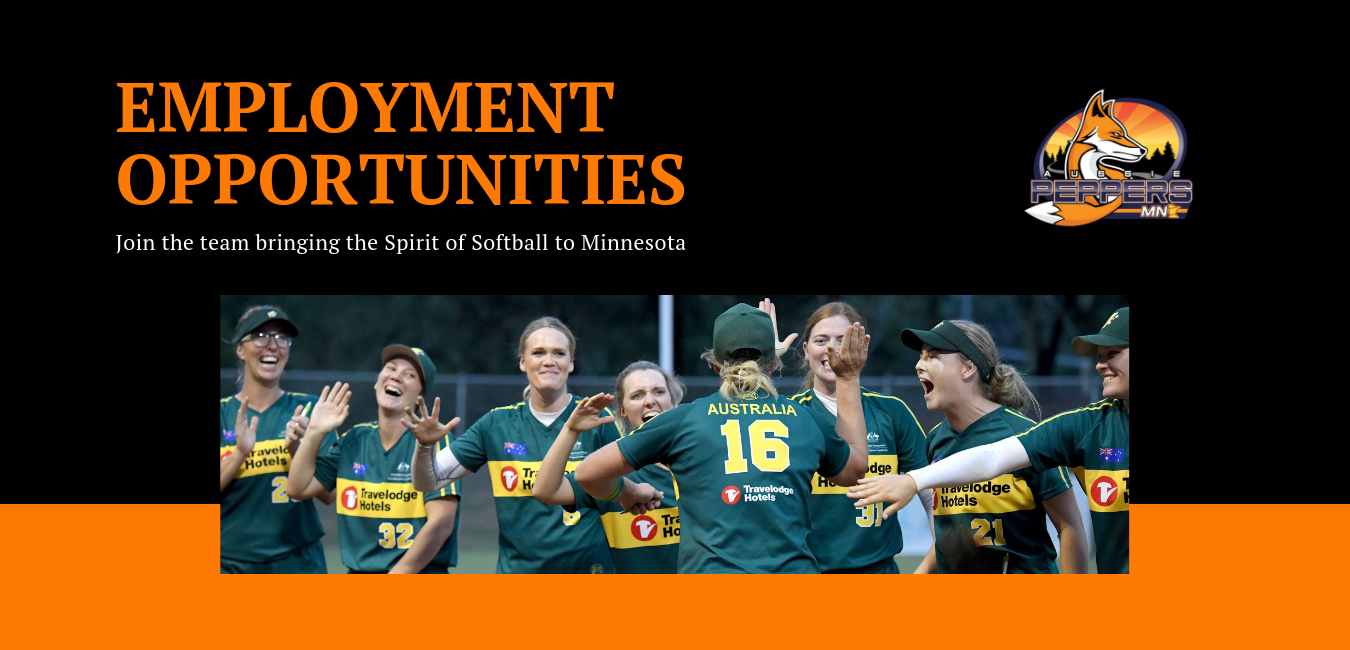 Internship Opportunities
Aussie Peppers Internships
The Aussie Peppers are a women's professional fastpitch softball team located in Mankato Minnesota. The Aussie Peppers of Minnesota was founded through a partnership between Softball Australia and the Non-Profit Peppers of Mankato. We are looking for several hardworking interns to work with us this summer during our second season in Mankato and the NPF. Each internship opportunity is unpaid with the opportunity to be paid based off of formed sponsorships. College credit is offered for all internship positions, but is not a requirement for consideration.
Please contact Alyssa Carver at alyssacarver.peppers@gmail.com or by phone at 309-221-7604 for more information about the following internships:
Brand Manager 2020: The Aussie Peppers of Minnesota, a professional and 2020 Olympic qualified softball team, located in Southern Minnesota are looking for a Brand Manager intern. Our ideal intern must be creative, energetic, hard working, possess graphic design skills, and have a desire to help manage all aspects of brand management. Interns will have the opportunity to work with Southern Minnesota's hottest new summer attraction, an international team (Softball Australia) who are 1 of 6 teams in the world qualified for the summer 2020 Olympics in Tokyo, Japan.
The Aussie Peppers Brand Manager will start the season with heavy graphic design work in January 2020 and transition into brand management March of 2020. Hours will start as part time at roughly 10-15 a week and increase once school ends in May. A brand manager will help design merchandise, plan and market a professional draft, market the team and players, market ticket sales, merchandise sales, help manage social media accounts, and work on sponsor activation in season.
This position will be paid with two stipends. The first stipend will be in April and the second will be at the end of the season in July. This position is eligible for college credit.
Skills an IDEAL Candidate will possess:
Marketing Knowledge
Adobe Suite Experience
Graphic Design
Video Editing
Social Media Knowledge
To apply: Please send your cover letter, resume, and any graphic design/portfolio examples to alyssacarver.peppers@gmail.com & mattmangulis.peppers@gmail.com Examples of work are preferred for this position.
Voice of the Aussie Peppers Internship: The Aussie Peppers are looking for a hardworking and energetic individual to help with our in game promotions throughout the 2020 season. Our ideal intern will be creative and enjoy working with fans and large crowds.
The voice of the Aussie Peppers will
Sales & Sponsorship Internship: Interns will be in charge of the Aussie Peppers merchandise website and will help run the merch booth at home games throughout the summer. Sales interns will have the opportunity to work with our community partners in renewing partnerships and creating new partnerships and sponsorships. Sales interns will be in charge of ticket promotions on game days and will work closely with the front office staff to drive more merchandise sales throughout the season.
Photographers: The Aussie Peppers of Minnesota are looking for photographers to capture our various gameday experiences including but not limited to, gameplay (both home team and away team(s)), on field and off field promotions, visiting partners, and league required photos. Our ideal photographers will be flexible and have an excitement for photography. This position does NOT require individual to be a professional photographer, but does require the individual to have photography skills. Our ideal candidate will have their own camera and will be able to work with the Assistant General Manager to upload game day photos immediately following the conclusion of the game based on NPF requirements.
***Indicate in cover letter what area(s) you are most interested in working in, your estimated start and end dates and how many days per week you're available or what a typical weekly schedule would be***
***If you intend to use this internship for college credit please include this in your email to Alyssa with the name of the University you will be getting credit for.***